Best Press Facility Award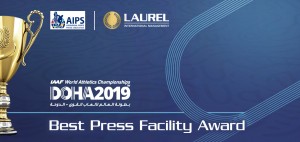 Simply the best!
Laurel celebrated the end of 2019 in style, along with our partners at the IAAF and in Qatar, after it was confirmed that the press facilities and personnel for the IAAF World Athletics Championships Doha 2019 were voted the world's best by a prestigious media organisation.
The Association Internationale de la Presse Sportive (AIPS), which represents media professionals worldwide, announced that the unique award for the Best Press Facility went to the facilities and personnel of the championships that were held from September 28-October 6.
The event pipped prestigious events such as the Rugby World Cup and Wimbledon to the award by polling almost 20% of the total votes.
"With a lot of criticism ahead of the beginning of the event – postponed to September from the traditional athletics calendar – the World Athletics professionals and volunteers were able to set up everything the media needed to cover the event and work at their best," AIPS stated when announcing the award.
The news is particularly sweet for Laurel as we worked alongside the Local Organising Committee to deliver the world-class Media Operations.
Laurel planned and delivered a dynamic service that catered for almost 2,000 international media representatives.
An exhaustive planning process preceded the operation to manage essential media locations including the state-of-the-art Main Media Centre, the Venue Media Centres at the breath-taking Khalifa International Stadium and Corniche, as well as the media areas at the various training venues.
To complement these on-site operations, Laurel executed an extensive Media Services plan that included the co-ordination of Media Accreditation, Media Accommodation, Media Transportation as well as all associated logistics.
The event welcomed 2,000 athletes from 213 countries and Laurel was also responsible for delivering an Olympic-standard News Service that shared the story of the IAAF World Athletics Championships Doha 2019 to the world through a team of leading Athletics writers and photographers in the business.
A number of high quality publications were also produced including the all-important Media Guide and Media Operations Newsletters.