5th AIMAG. Stunning performance in Turkmenistan's first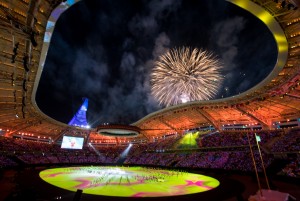 The company was chosen by the Turkmenistan State TV just prior to the Inspiring Ashgabat Test Event to deliver a vast range of media and advertising services for the Executive Committee and it resulted in a team of up to 120 professionals being assembled from across the world to support.
Demands were high and timelines were tight but the company provided stunning outcomes to ensure the event, and its host country Turkmenistan, was showcased to the world like never before.
After managing the media operations for the Test Event Series, Laurel International went on to run a comprehensive bi-lingual (English & Turkmen) communications campaign that included almost 150 local and international press releases covering the full build-up to the Games. These were not only published on the event web site but distributed to thousands of media contacts.
The company's strong relationships with the world's media came to the fore when influential publications and television stations provided sterling support through extensive advertising and advertorial campaigns.The multidimensional build-up also involved the preparation of a number of key publications from design to delivery including Newsletters, Media Guide and the Team Turkmenistan Handbook.
During Games-time, professionals from more than 20 nationalities were recruited to provide Olympic-level News and Photo Service operations through a unique Information System. Laurel International was also responsible for for a variety of Media Services, as well as Media Operations in each of the competition venues to ensure that Ashgabat 2017 had the look and feel of an Olympic Games.
The operation was soundly praised by both attending media and senior officials alike as the company met all of its required obligations through admirable professionalism, dedication and hard work.